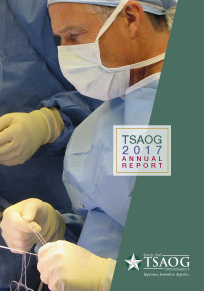 Click to View TSAOG's 2017 Annual Report
A Letter From Our CEO:
As one of the largest orthopedic groups in South Texas, it is our responsibility to provide the best care possible and to take the lead in adopting and developing innovations that improve our patients' lives. This inaugural report outlines TSAOG's commitment to serving our community with dedication and excellence.
Since its inception in 1947, TSAOG has continued to adapt and grow to meet the changing needs of our patients. In 2016, the Group had:
Seven clinic locations in and around San Antonio, TX
One of the largest ambulatory surgery centers in the country
OrthoNow – a walk-in clinic for injuries so our patients can avoid a trip to the ER
In 2016, we also worked with the Baptist Health System to open a state-of-the-art orthopedic speciality hospital. At TSAOG, we want to lead the charge in delivering quality outcomes. To that end, we must measure ourselves against our peers, both regionally and nationally. We collect quality care metrics that have illustrated our superior outcomes in total joint replacement and patient satisfaction scores consistently outstrip national averages.
I hope you will be as excited to read about our progress as we are to share it with you.
Sincerely,
Usman B. Mirza
Chief Executive Officer
Annual Reports (Past Years):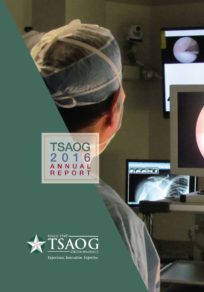 Click to View TSAOG's 2016 Annual Report