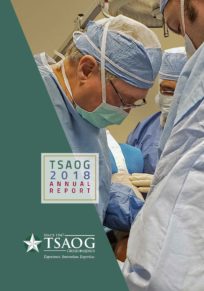 Click to View TSAOG's 2018 Annual Report
2018: TSAOG Year in Review
In 2018, TSAOG Orthopaedics (formerly The San Antonio Orthopaedic Group) marked its 71st year of providing orthopaedic services to San Antonio and the South Texas community.
Since its inception in 1947, TSAOG has continued to adapt and grow to meet the changing needs of our patients. In 2018, the Group had:
Seven clinic locations in and around San Antonio, TX
One of the largest ambulatory surgery centers in the country
OrthoNow – a walk-in clinic for injuries so our patients can avoid a trip to the ER
Major developments in 2018 included:
The onboarding of two new surgeons – upper extremity specialist Dr. Anthony Montanez and spine specialist Dr. Matthew Swann
The retirement of Dr. Paul Pace – hand and wrist specialist and long-time member of TSAOG
TSAOG continues to recruit talented physicians not only to meet increasing demand for high-quality orthopaedic care, but also to expand our services. Of course, as our Group continues to expand, so must our facilities. In 2019, we look forward to:
Opening a freestanding location for our WorkSmart Industrial Rehabilitation Program
Breaking ground on the Ridgewood Orthopaedic Center, TSAOG's second flagship location slated to open in November 2020
Being back in-network with Blue Cross and Blue Shield of Texas, effective 01/01/2019
As one of the largest orthopaedic groups in South Texas, it is our responsibility to provide the best care possible and to take the lead in adopting and developing innovations that improve our patients' lives. We want to lead the charge in delivering quality outcomes, so we collect quality care metrics to help quantify our successes and identify areas of opportunity.
We hope you enjoy TSAOG's 2018 Annual Report.
Annual Reports (Past Years):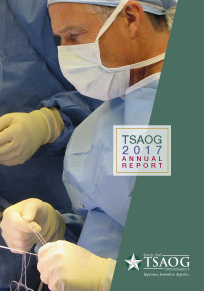 Click to View TSAOG's 2017 Annual Report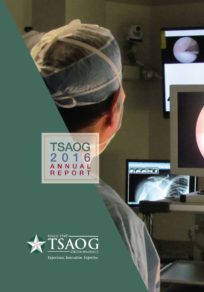 Click to View TSAOG's 2016 Annual Report