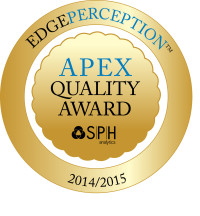 We are so happy to announce that TSAOG's Physical and Hand Therapy has been named a 2014/2015 APEX Quality Award Winner! The APEX award recognizes outstanding patient satisfaction and overall quality of care.
According to SPH Analytics, "this national distinction recognizes outstanding healthcare organizations and care teams who have demonstrated the highest level of excellence in patient satisfaction and overall care in the 12-month evaluation period. Winners include ambulatory surgery centers, catheterization laboratories, diagnostic imaging centers, endoscopy centers, hospitals, pain management centers, physician practices, and therapy and rehabilitation centers. APEX Quality Award recipients use EdgePerception, an insightful patient satisfaction surveying and perception management solution and legacy product of Voyance which was acquired by SPH Analytics in 2014. Winners are determined based solely on patient feedback and evidence-based success. The APEX Quality Award has been adopted as one of the most prestigious awards throughout the healthcare industry, with only 104 facilities nationwide recognized this year."
Congratulations to our Physical Therapy and Hand Therapy teams for earning this distinguished award!