TSAOG is very pleased to welcome Dr. G. Lane Naugher to our practice! His first day is today – Friday, September 9th.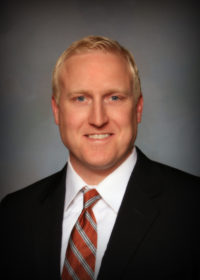 Dr. Naugher is an orthopedic surgeon specializing in sports medicine. He completed his fellowship training at Wake Forest Medical Center in Winston Salem, NC. 
He will be treating all orthopedic conditions, with the exception of the back and neck, for patients aged 3 years and up and will hold clinic at the following TSAOG locations: The Orthopaedic Institute, Schertz, New Braunfels, Westover Hills, and Mission Trail.
Dr. Naugher's special interests include:
Arthroscopy and Sports Medicine:
Shoulder, elbow, hip, and knee arthroscopy
Shoulder dislocations and instability
Rotator cuff tears, including arthroscopic treatment of massive tears and revisions / repairs
Throwing Problems and Pain in the Shoulder and Elbow
Ulnar Collateral Ligament Injuries, Tommy John Procedure
Hip arthroscopy for management of hip conditions including FAI (femoroacetabular impingement), labral tears, trochanteric bursitis, ilitiotibial band syndrome, gluteal tendon, and proximal hamstring tendon tears
Knee Instability and Multiligament knee reconstructions
ACL , PCL Injuries and Arthroscopic Reconstruction
Meniscal Repairs and Transplantation
Cartilage preservation and restoration procedures of shoulder, elbow, hip and knee
Joint Replacement and Preservation:
Joint preservation arthroscopic procedures for shoulder, elbow, hip, and knee arthritis
Total and Reverse Shoulder Replacement
Total Hip Replacement
Partial and Total Knee Replacement
Trauma and Fracture Care:
Upper and lower extremity fractures and dislocations
Traumatic tendon or ligament injuries
Without further ado, meet Dr. Lane Naugher:
To schedule an appointment with Dr. Naugher, please call 210.281.9595 or request an appointment online.
To learn more about Dr. Naugher's background and training, please visit his webpage.
Recruiting specialty trained orthopedic surgeons is one more way TSAOG makes your health our mission.