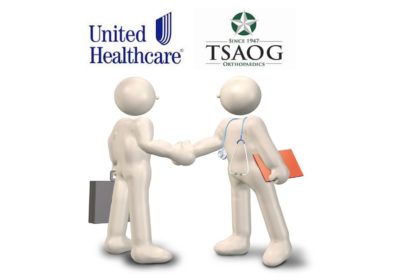 We are so happy to announce we have come to an agreement with United Healthcare and will be able to remain in-network as your Orthopaedic Provider without service interruption. This agreement ensures in-network access to the care you have come to trust and expect from TSAOG, including physician services, physical and hand therapy, walk-in injury care, and imaging.
For over seventy years, TSAOG has provided high quality orthopaedic care to our patients by continually adapting and improving our business and clinical practices. This new agreement will allow us to continue this tradition for years to come.
While these types of negotiations are stressful and unfortunate, they are necessary to ensure we are able to continue to provide the state-of-the-art care you deserve.
What this means to you: Since we were able to reach an agreement with UnitedHealthcare before the anticipated termination date of May 1st, 2017, you will not experience any lapse of coverage benefits or services. Our schedulers are available to assist you with your appointment needs at 210-804-5400 or 1-800-445-4263. You may also self-schedule on-line at www.tsaog.com at your convenience.
We apologize for any hardship and inconvenience this negotiation may have caused you and we want to thank you for your understanding and patience as we navigated this difficult process. We aspire to remain your orthopaedic provider of choice now and in the future.