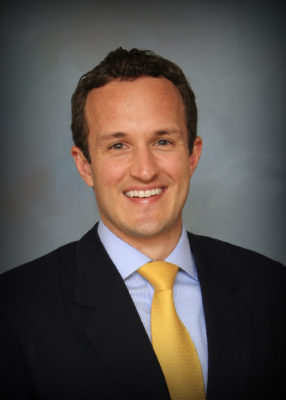 TSAOG is very pleased to welcome Dr. Clayton W. Nuelle to our practice! His first day is today – Tuesday, September 5th.
Dr. Nuelle (pronounced null ē) is a board certified orthopaedic surgeon who recently finished his fellowship training in sports medicine at the University of Missouri. 
Dr. Nuelle will treat patients aged 6 years and up for all orthopaedic conditions, with the exception of the spine. His special interests include:
Cartilage restoration
Arthroscopic surgery of the knee, shoulder, hip, elbow, and ankle
Sports medicine
Joint replacement – partial knee (both unicompartmental and patellofemoral), total knee, total hip, and total shoulder
Fracture and trauma care
He will hold clinic at the Orthopaedic Institute, Medical Center, Mission Trail, and our brand new office (opening September 13th) in New Braunfels.
Without further ado, meet Dr. Clayton Nuelle:
To schedule an appointment with Dr. Nuelle, please call 210.281.9595 or request an appointment online.
To learn more about Dr. Nuelle's background and training, please visit his webpage.
I hope you will all join me in welcoming Dr. Clayton Nuelle to Team TSAOG!