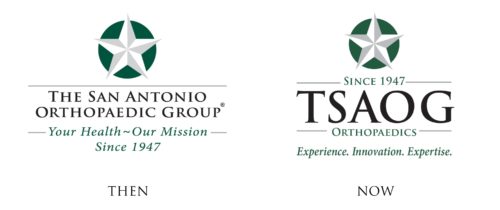 You may have noticed our redesigned logo popping up on our website, social media, and printed materials. That's because (you guessed it – or you read the headline), The San Antonio Orthopaedic Group is now TSAOG Orthopaedics!
The San Antonio Orthopaedic Group (TSAOG) has been an institution in San Antonio since 1947. Over the years, our practice has grown exponentially – adding new physicians, specialties, and clinic locations.
As our clinical presence and our physicians' reputations for education and research expanded beyond San Antonio, we found that our practice name The San Antonio Orthopaedic Group no longer encompassed all that we do and all that we are. (For example: Did you know that TSAOG's physicians made 30 presentations across 8 different states and 4 different countries in 2016 alone???)
Though we recognized that our brand had to evolve with our practice, The San Antonio Orthopaedic Group (TSAOG) was how we started and will forever be a part of who we are. In 2017, our physicians voted to adopt the name TSAOG Orthopaedics to embrace who we have become and honor how we got here.
So what does TSAOG stand for now? While TSAOG will no longer officially stand for The San Antonio Orthopaedic Group, our vision, mission, and values remain unchanged. TSAOG stands for the same principles we've always stood for and we will continue to work to provide unparalleled patient care to our community for generations to come.