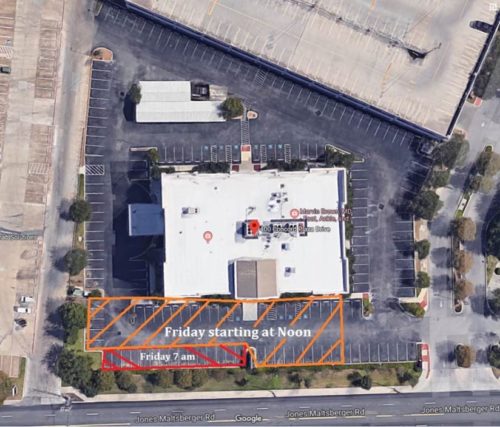 TSAOG's Orthopaedic Institute location (located at 400 Concord Plaza Dr, San Antonio, TX 78216) will be replacing the tile located at the front entrance of the building (facing Jones Maltsberger Rd) this Friday and Saturday, August 3rd & 4th.
To prep for this construction, the parking spots surrounding the front entrance of the building will be blocked off TOMORROW at noon (see illustration). We ask that any patients scheduled the afternoon of Friday, August 3rd plan to park and enter through the back entrance of the building.
The OrthoNow Injury Clinic will be open on Saturday, August 4th from 9am-1pm, but the area will still be blocked off at that time, so we ask that any OrthoNow patients also plan to park at the back of the building.
The front entrance and parking area should be reopened for use by Monday morning, August 6th.
We apologize for any inconvenience this may cause.