TSAOG is very pleased to welcome Dr. Emmanuel C. Nwelue to our practice! He starts seeing patients this week and has immediate appointments available.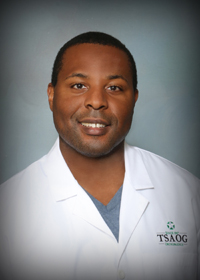 Dr. Nwelue is an orthopaedic surgeon, fellowship trained in Total Joint Replacement focusing on minimally invasive hip and knee replacement surgery and complex revision joint reconstructions.  He treats patients 18 years of age and older and has new patient appointments available at our New Braunfels, Schertz, and Quarry Area locations.
His special interests include:
Total Knee Replacement
Total Hip Replacement
Partial Knee Replacement
Revision Knee Replacement
Hip Arthritis
Knee Arthritis
Adult Hip Dysplasia
Hip Infections
Knee Infections
Hip Fracture Care
About Dr. Emmanuel C. Nwelue:
Dr. Nwelue is an orthopaedic surgeon, fellowship-trained in total joint replacement of the hip and knee. After earning his bachelor's degree at Austin College, Dr. Nwelue received his medical degree from The University of Texas Science Center in San Antonio.
Following medical school, he completed his Orthopaedic surgery residency at UT Southwestern, working at Parkland Memorial Hospital, the city's largest level 1 trauma center. Following his residency, Dr. Nwelue moved to Irvine, CA, for a total joint replacement fellowship. During this time there, he trained under some of the nation's top surgeons and educators of primary and revision total joint replacements, including direct anterior approach for hip replacements.
After completing his fellowship, Dr. Nwelue was eager to return to San Antonio. He is looking forward to providing exceptional care to the community, where he first started his medical journey.
To schedule an appointment with Dr. Nwelue, please call 210.804.6980
To learn more about Dr. Nwelue's background and training, please visit his webpage.