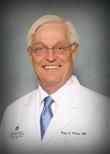 Dr. Paul Pace – hand and wrist specialist and long time member of TSAOG – will be retiring from private practice, effective June 30th, 2018.
Current patients of Dr. Pace will have the option of transferring their care to another TSAOG physician or any other physician of their choice. If you are a current patient with Dr. Pace and have any questions about your medical records or continued care, please contact our main office at (210) 804-5400.
Dr. Pace joined TSAOG in 1998 and has served as an important leader in our practice for 20 years. According to TSAOG President Dr. Stephen Burkhart, "Dr. Pace was a driving force in the merger of four separate San Antonio orthopaedic practices into what is now known as TSAOG. He was a tireless worker on the TSAOG Management Committee, and was instrumental in the early success The Orthopaedic Surgery Center of San Antonio. He led TSAOG's physician recruitment efforts for many years, and was responsible for recruiting most of our younger surgeons to TSAOG.
Despite an incredible appetite for work, Dr. Pace will always be known as a fun-loving guy who brightened everyone's day with his Mardi Gras and Fiesta celebrations. […] And how about the Spurs? Was there ever a more devoted Spurs fan than Dr. Pace (ask the referees whose names and numbers were on his business cards so that they could be heckled in a more, er, personal manner)?
Professionally, Dr. Pace was a member of the American Society for Surgery of the Hand, a highly prestigious organization that invites only the top hand surgeons in the U.S. to become members. In addition to his busy clinical practice, Dr. Pace found time to serve on the Board of Governors of the Tulane School of Medicine, and to participate as an active member of The Texas Cavaliers.
Finally, Dr. Pace has been a devoted family man. We are sure that his wife Peggy and his children will enjoy seeing more of him in retirement.
Please join me in congratulating Dr. Pace on an incredible career with TSAOG which has benefited so many people in San Antonio and South Texas. We will all miss him very much."
Happy retirement, Dr. Pace!