TSAOG is very pleased to welcome Dr. Lauren E. Karbach to our practice! She starts seeing patients this week and has immediate appointments available.
Dr. Karbach is an orthopaedic surgeon with TSAOG Orthopaedics and specializes in hand and upper extremity surgery. She treats orthopaedic conditions of the hand, wrist, elbow, and shoulder for patients of any age.
She has appointments available at our Quarry Area, Schertz, and our Stone Oak locations.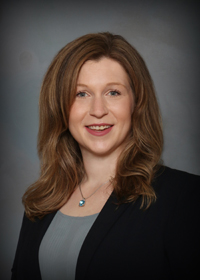 Her special interests include:
HAND & WRIST
Carpal tunnel syndrome (endoscopic and open)
Dupuytren's contracture including surgical and non-operative treatment (percutaneous and collagenase/Xiaflex)
Finger joint replacement (MCP, PIP)
Forearm fractures (radius and ulna fractures)
Hand and finger fractures (boxer's fractures, metacarpal fractures, phalanx fractures)
Hand and wrist arthritis
Nerve injury and repair (nerve lacerations, cut nerves)
Nerve transfers (radial, ulnar or median nerve palsy)
Mucoid Cyst and Finger Masses
Rheumatoid Arthritis
Tendon repair, tendon transfer, tendon reconstruction, tendon ruptures
Tendonitis of the wrist (Dequervain's)
Trigger thumb and finger releases
Thumb ligament reconstruction, CMC arthroplasty (CMC arthritis)
Scaphoid fractures
Scapholunate tears (SL tears)
Ulnar tunnel syndrome
Ulnocarpal impaction
Volar and dorsal ganglion (wrist ganglion)
Wrist arthroscopy, TFCC repair
Wrist fractures (distal radius fractures)
ELBOW
Distal biceps and triceps tears
Elbow arthroscopy
Elbow arthritis
Elbow fractures (radial head fractures, olecranon fractures)
Elbow dislocations
Elbow ligament reconstruction (ulnar collateral ligament reconstruction)
Elbow replacement (elbow arthroplasty)
Golfer's elbow (medial epicondylitis)
Osteochondral defects of the elbow (OCD lesions)
Radial nerve compression (radial tunnel syndrome)
Tennis elbow (lateral epicondylitis)
Ulnar nerve compression (cubital tunnel syndrome)
SHOULDER
Arthroscopic rotator cuff repair
Biceps tears and tendinopathy
Clavicle fractures
Frozen shoulder (adhesive capsulitis)
Shoulder arthritis (Reverse and Anatomic Shoulder replacement/arthroplasty)
Shoulder fractures (proximal humerus fracture)
Shoulder tendonitis (shoulder impingement, rotator cuff tendonitis)
Scapula fractures
TRAUMA & FRACTURE CARE
Upper & lower extremity fractures
Neuroma treatment in upper and lower extremities
Peripheral nerve repair and reconstruction
Targeted Muscle Reinnervation
Work related upper extremity injuries
Ankle fractures
Tibia and femur fractures
Hip fractures (femoral neck, intertrochanteric, sutrochanteric)
PEDIATRICS
Upper extremity fractures
Congenital pediatric hand surgery (congenital trigger thumb, syndactyly, polydactyly, contractures)
About Dr. Lauren E. Karbach
Dr. Lauren Karbach is an orthopaedic surgeon specializing in hand and upper extremity surgery, from shoulder to fingertips, in adults and children. Dr. Karbach was born in Houston, Texas, and was raised primarily in Austin; however, her family is now in the San Antonio and New Braunfels area. She completed her undergraduate degree at Washington University in St. Louis, graduating Summa Cum Laude in Chemistry. She went to Baylor College of Medicine in Houston, TX, where she graduated with honors at the top of her medical school class. During her time in medical school, she was inducted into the Alpha Omega Alpha Honor Society as a Junior and was named the DeBakey Scholar. Following medical school, she completed a year of general surgery training at Vanderbilt University.
Dr. Karbach completed her orthopaedic surgery residency at the University of Rochester. During her residency, she participated in multiple research projects and presented at multiple national meetings. Dr. Karbach specializes in peripheral nerve surgery, arthritis surgery, traumatic conditions, and upper extremity reconstruction. 
In her spare time, she enjoys spending time with her husband and two dogs, trying new restaurants, working out on her Peloton, and traveling.
To schedule an appointment with Dr. Karbach, please call 210.489.7225
To learn more about Dr. Karbachs background and training, please visit her webpage.