Naumit "Neel" S. Bhandari, M.D.
Pain Medicine; Anesthesiology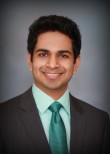 Specialties
PRACTICE SUMMARY
Dr. Bhandari is not accepting new patients at this time.
Dr. Bhandari is a pain medicine physician with TSAOG Orthopaedics (formerly The San Antonio Orthopaedic Group). He is board certified by The American Board of Anesthesiology (ABA), fellowship trained in pain medicine, and treats patients aged 12 years and older.
Dr. Bhandari has a special interest in back pain, neck pain, PRP injections, and spinal injections. 
MEET DR. BHANDARI
Dr. Naumit S. Bhandari is a board certified anesthesiologist who is sub-specialized and board certified in pain medicine.
Dr. Bhandari was brought up and raised in San Antonio and attended Health Careers High School. Following high school, he graduated magna cum laude in Pre-Medicine and Finance from the University of Texas at Austin and then completed medical school at Texas A&M Health Science Center.
He returned home to complete his anesthesiology internship and residency at the University of Texas Health Science Center at San Antonio. Dr. Bhandari stayed on as a faculty member for anesthesiology at the University of Texas Health Science Center in San Antonio while sub-specializing in pain medicine fellowship at the same program.
Dr. Bhandari was named in SA Scene's list of SA Doctors: Best of 2017 and 2017 Rising Star Doctors.
Featured Video:

SPECIAL INTERESTS
Non-surgical Interventional Therapies of the Spine and Major joints
Spinal Cord Stimulation
Kyphoplasty/Vertebroplasty
Radiofrequency Neurotomy/Ablation
Epidural Steroid and Sacroiliac Joint (SI) Injections
Botox for Chronic Migraines
Ultrasound Guided Injections
Plasma Rich Protein (PRP) Injections
PHYSICIAN STAFF
Clinical Coordinator
Tony A: 210.396.5265
Scheduling
Phone: 210.281.9595
Fax: 210.582.2670
Referrals and Authorizations
Phone: 210.804.5600
Fax: 210.804.5601
Billing Specialist
Phone: 210.396.5369
Fax: 210.804.6801
PATIENT TESTIMONIALS
I was suffering from lower back pain for many years. After taking treatment from Dr. Bhandari, the pain has almost gone. I recommend everyone to visit him if you are suffering of any kind of pain.

- Vitals
Dr.Bhandari is a very knowledgeable doctor.He was very caring and compassionate.He completely fixed my lower back problems.I went to so many doctors before but nothing helped. Dr.Bhandari did a very good job. I highly recommend him if anyone has any pain.

- Healthgrades
I have chronic back pain. He took the time and had the patience to explain to me what the game plan was and gave me details of what he intended to do. I am still in treatment and he never loses his patience with my endless questions.

- Healthgrades
I am grateful for Dr. Bhandari's service. He has greatly helped my pain condition. I am able to function much better now.

- Healthgrades
OFFICE LOCATIONS
SUPPORT STAFF
Clinical Coordinator
Tony A: 210.396.5265
Scheduling
Phone: 210.281.9595
Fax: 210.582.2670
Referrals and Authorizations
Phone: 210.804.5600
Fax: 210.804.5601
Billing Specialist
Phone: 210.396.5369
Fax: 210.804.6801