Prabhdeep K. Grewal, M.D.
Pain Medicine; Anesthesiology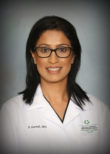 Specialties
PRACTICE SUMMARY
Dr. Grewal is an Anesthesiologist, fellowship trained in Interventional Pain Management, with The San Antonio Orthopaedic Group (TSAOG). She is board certified by The American Board of Anesthesiology (ABA)  in Anesthesiology and Pain Management and treats patients aged 12 years and older.
Dr. Grewal has a special interest in neck and back pain diagnosis and nonsurgical treatment including spinal injections, platelet rich plasma, and stem cell therapy. She is focused on a patient-centric treatment program with a multimodal approach including conservative and interventional care to quickly restore patients' quality of life and functionality.
She has appointments available at our Central, North Central, Schertz, Southeast, Westover Hills, and New Braunfels locations.
MEET DR. GREWAL
Dr. Grewal is an Interventional Pain Physician focused on diagnosing and treating musculoskeletal ailments. She completed her residency training in Anesthesiology at University of Arkansas for Medical Sciences where she was chosen to serve as Chief Resident. She then went on to sub-specialize by completing an Interventional Pain fellowship from Rush University in Chicago. She believes in a multidisciplinary approach to treatment to chronic pain which includes daily exercise, physical therapy, biofeedback, spinal injections, and conservative medication management.
Dr. Grewal is committed to providing the highest quality of care to her patients with an emphasis on functional status and quality of life through up-to-date techniques and technological advances.
In her spare time, she enjoys sports, exercise, photography and most importantly, spending quality time with her family.
Featured Video:

SPECIAL INTERESTS
Chronic Interventional Pain Management

Joint and Spinal Injections and Spinal Cord Stimulation

Neck and Back Pain due to:

Spondylosis (arthritis of spine)
Radiculopathy ( "sciatica")
Post Laminectomy Pain Syndrome (PLPS / failed back surgery)

Complex Regional Pain Syndrome (CRPS)
Myofascial Pain (muscle related pain)
Arthritis (joint pain)
Headache (migraine and occipital neuralgia)
Spinal Cord Stimulation
Regenerative Medication
Platelet Rich Plasma (PRP) Injections
PHYSICIAN STAFF
Clinical Coordinator
Karla R: 210.804.5992
Scheduling
Phone: 210.281.9595
Fax: 210.582.2670
Referrals and Authorizations
Phone: 210.804.5600
Fax: 210.804.5601
Billing Specialist
Phone: 210.396.5369
Fax: 210.804.6801
OFFICE LOCATIONS
SUPPORT STAFF
Clinical Coordinator
Karla R: 210.804.5992
Scheduling
Phone: 210.281.9595
Fax: 210.582.2670
Referrals and Authorizations
Phone: 210.804.5600
Fax: 210.804.5601
Billing Specialist
Phone: 210.396.5369
Fax: 210.804.6801