What Is An Orthopaedic Foot & Ankle Specialist?
---
An orthopaedic foot and ankle specialist is an orthopedic surgeon who has chosen to focus his or her practice on conditions of the foot, ankle, and lower leg. At TSAOG Orthopaedics (formerly The San Antonio Orthopaedic Group), our orthopaedic foot and ankle specialists are all board certified in orthopedic surgery and fellowship trained in foot and ankle conditions. This means that they have all gone through 4 years of medical school, 5 years of residency in orthopedic surgery, and an additional year of fellowship training.

What does it mean to be board certified in orthopaedic surgery?
Conditions Treated and Procedures Offered:
---
Achilles Tendinitis
Achilles Tendinosis
Ankle Fractures
Ankle Joint Surface Defects
Ankle Pain
Ankle Sprains
Arthritis of the Foot and Ankle
Bunions, Hammer Toes, and Other First Toe Disorders
Cartilage Injuries
Cerebral Palsy and Brain Injury Contractures
Chronic Lateral Ankle Sprains
Claw Toe
Clubfoot
Flat Feet
Foot Pain
Fractures of the Lower Leg, Foot and Ankle
Heel Pain
High Ankle Sprain
Lisfranc (Midfoot) Fractures
Morton's Neuroma
Neuromas
Osteochondral Defects and Fractures
Peroneal Tendinosis
Plantar Fasciitis
Rheumatoid Arthritis
Sesamoiditis
Sports-Related Injuries to the Lower Leg, Foot, and Ankle
Stress Fractures
Tendon Ruptures
Traumatic, Post-Traumatic, and Degenerative Conditions of the Lower Leg, Foot, and Ankle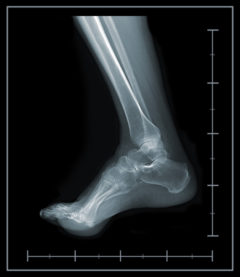 Procedures:
Adult Reconstructive Surgery of the Lower Leg, Foot and Ankle
Deformity Correction
Flatfoot Correction
Reconstruction of Complex Deformities of the Lower Leg, Foot, and Ankle
Rheumatoid Reconstructions
Tendon Repair and Reconstruction including Achilles, Posterior Tibial and Peroneal
Vascularized Bone Transport to Reconstruct Bone Loss and Chronic Non-Union
PATIENT EDUCATION
---
Visit OrthoIllustrated.com to learn about orthopedic conditions and treatments, watch medical animations and more.