Nicholas Nira, D.C.
Chiropractic Care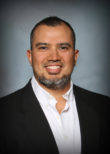 Specialties
PRACTICE SUMMARY
Dr. Nicholas Nira is a chiropractor with TSAOG Orthopaedics. He specializes in the non-surgical and drug-free treatment of neck pain, back pain, and extremity pain for patients aged 2 years and older. He has new patient appointments available at our Westover Hills and Schertz locations. 
Doctor Nira has a special interest in holistic treatment of neck, back, and extremity pain, spinal manipulation, disc decompression, spinal rehabilitation, and sports related injuries. Learn more about chiropractic care. 
MEET DR. NIRA
Dr. Nira is a San Antonio area native and graduate of Samuel Clemens High School. At a young age, he suffered serious knee injuries while participating in baseball and football, which gave him a special interest in the management of sports-related injuries. While working to obtain his undergraduate degree, he managed the rehabilitation center at a chiropractic office, which taught him the importance of a multi-disciplinary approach to patient care.
Dr. Nira has been a practicing chiropractor since 2011 and joined TSAOG Orthopaedics in 2018 because he is a strong believer in an interdisciplinary approach to spinal care. He works with orthopaedic specialists, physical medicine and rehabilitation specialists, and physical therapists to ensure that each patient receives the comprehensive spinal care and treatment they deserve. 
His hobbies include golf, hunting, fishing, and working out and he loves spending time with his son.
Featured Video:

SPECIAL INTERESTS
Drug free non-surgical spine care
Spinal manipulation
Sports related injuries
Tendonitis
Disc decompression
Posture correction
Spinal rehabilitation
Neck pain
Low back pain and Sciatica
Headaches / Migraines
Radicular pain
Back pain related to pregnancy
Acute Injuries to the Back and Neck
Chronic Back Pain
Headaches / Migraines
Weightlifting injuries
Herniated Discs
Low Back Pain (With or Without extremity Pain)
Neck Pain (With or Without extremity Pain)
Neuromuscular Conditions
Tennis or golfers elbow
Pregnancy Pain
Previous Spinal Surgeries (With Continued Back/Neck Pain)
Bulged or Ruptured Discs
Sciatica
Wrist pain
Scoliosis
SI joint Pain
Shoulder or Rotator cuff pain
Spinal Stenosis
Spinal Stiffness
Spondylolisthesis
Whiplash Injuries
Sports Injuries
PHYSICIAN STAFF
Clinical Coordinator
Amy T: 210.396.5260
Scheduling
Phone: 210.281.9595
Fax: 210.582.2670
Referrals and Authorizations
Phone: 210.804.5600
Fax: 210.804.5601
Billing Specialist
Phone: 210.396.5369
Fax: 210.804.6801
OFFICE LOCATIONS
Schertz
Schertz Parkway Professional Plaza
5000 Schertz Parkway, #600
Schertz, TX 78154
View Location
Westover Hills
Westover Hills Medical Plaza I
11212 State Hwy 151, #150
San Antonio, TX 78251
View Location
SUPPORT STAFF
Clinical Coordinator
Amy T: 210.396.5260
Scheduling
Phone: 210.281.9595
Fax: 210.582.2670
Referrals and Authorizations
Phone: 210.804.5600
Fax: 210.804.5601
Billing Specialist
Phone: 210.396.5369
Fax: 210.804.6801