Adewale O. Adeniran, M.D.
Spinal Surgery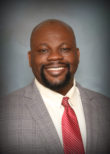 Specialties
PRACTICE SUMMARY
Dr. Adeniran is a board certified orthopedic surgeon, fellowship trained in back and neck surgery, with TSAOG Orthopaedics. He treats patients aged 11 years and older.
Doctor Adeniran has a special interest in cervical and lumbar spinal stenosis, lumbar spondylolisthesis, and cervical myelopathy. He has appointments available at our
Brooks City Base
,
Quarry Area
, and
Westover Hills
locations.
MEET DR. ADENIRAN
Dr. Adeniran is a board certified orthopedic spine surgeon with expertise in a broad range of spinal conditions. He underwent a year long fellowship in spine surgery at the renowned Texas Back Institute, where he learned some of the latest advances in spine surgery from some stalwarts of the field.
Dr. Adeniran was born in Nigeria and emigrated along with his family to the United States at the age of 9. He attended high school in Maryland and graduated in Jacksonville, FL, where he stayed for college. He completed his Bachelors degree in Biochemistry at Jacksonville University, where he was named the student of the year for the division of Math and Science.
Dr. Adeniran earned a full tuition scholarship to study medicine at Washington University in St. Louis. While there, he served as president of his class for all four years. Upon graduating from medical school, he pursued his orthopedic surgery training at Dartmouth University's training hospital in New Hampshire. At Dartmouth, Dr. Adeniran had the opportunity to work with several renowned spine surgeons who cultivated his interest in back and neck surgery. After finishing his residency, Dr. Adeniran completed a spine surgery fellowship at Texas Back Institute in Plano, TX, where he was exposed to the latest in spine surgery techniques and technologies.
Dr. Adeniran has a keen interest in patient reported outcomes in spine surgery and meticulously tracks his patient's outcomes in order to enhance their care.
In his spare time, Dr. Adeniran is an avid weightlifter and is continuing to develop his squash game.
Dr. Adeniran was named in SA Scene's list of SA Doctors: Best of 2020.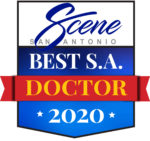 Featured Video:

SPECIAL INTERESTS
Spine
Robot assisted spinal fusion
Vertebroplasty and Kyphoplasty
Use of ultrasonic scalpel in spine surgery
Anterior and posterior cervical surgery
Cervical Stenosis and Myelopathy
Cervical Disc Herniation
Lumbar Disc Herniation
Lumbar Stenosis and Neurogenic Claudication
Spondylolisthesis
Adult Degenerative Scoliosis
Adolescent Idiopathic Scoliosis
Failed Back Surgery Syndrome
Osteoporotic Compression Fractures
Spine Fractures and Dislocations
PHYSICIAN STAFF
Clinical Coordinator
Gabriella R: 210.489.7230
Scheduling
Phone: 210.281.9595
Fax: 210.582.2670
Referrals and Authorizations
Phone: 210.804.5600
Fax: 210.582.2697
Billing Specialist
Phone: 210.396.5369
Fax: 210.804.6801
Worker's Compensation Patient Referrals
Phone: 210.804.6815
Fax: 210.582.2697
PATIENT TESTIMONIALS
It was very comfortable, not long waits, Dr. Adeniran was very professional and interested in my case.

- TSAOG Patient Survey
I could not have asked for a better surgeon then Dr. Adeniran. I feel like take too much of his time but he explains everything and answers my questions very patiently. He is wonderful.

- TSAOG Patient Survey
OFFICE LOCATIONS
Brooks City Base
Mission Trail Medical Plaza
3327 Research Plaza, #404
San Antonio, TX 78235
View Location
Quarry Area
The Orthopaedic Institute
400 Concord Plaza Dr.
San Antonio, TX 78216
View Location
Westover Hills
Westover Hills Medical Plaza I
11212 State Hwy 151, #150
San Antonio, TX 78251
View Location
SUPPORT STAFF
Clinical Coordinator
Gabriella R: 210.489.7230
Scheduling
Phone: 210.281.9595
Fax: 210.582.2670
Referrals and Authorizations
Phone: 210.804.5600
Fax: 210.582.2697
Billing Specialist
Phone: 210.396.5369
Fax: 210.804.6801
Worker's Compensation Patient Referrals
Phone: 210.804.6815
Fax: 210.582.2697