Eduardo Moreno, M.D.
Anesthesiology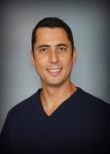 Specialties
PRACTICE SUMMARY
Dr. Moreno is board certified by the American Board of Anesthesiology (ABA) and treats patients aged one year and older.
Dr. Moreno has a special interest in acute pain management, multimodal analgesia, and ultrasound guided regional anesthesia. He employs the latest techniques and evidence based medicine.
MEET DR. MORENO
Dr. Moreno is a native of South Texas who was raised in San Antonio where he attended Antonian College Preparatory High School. He later earned a B.A. in Anthropology from The University of Texas at Austin. He received his medical degree from the University of Texas Health Science Center at San Antonio. His residency training was completed at The University of Texas Medical Branch at Galveston.
Dr. Moreno and his wife, Daniela, are blessed with two children. Outside of work, he enjoys fitness training, traveling, and fishing. Dr. Moreno speaks Spanish and Portuguese. 
SPECIAL INTERESTS
Preoperative Evaluation, Screening, and Clearance
Prevention and treatment of postoperative nausea and vomiting (evidence based protocols)
Multimodal analgesia (evidence based protocols)
Medical supervision of Anesthesiology Assistants and CRNAs
Difficult Airway Management
Conscious Sedation
General Anesthesia
Ultrasound Guided Regional Anesthesia  (single shot and continuous)

Spinal
Epidural
Interscalene
Infraclavicular
Axillary
Selective Ulnar and Radial peripheral nerve block
Fascia Iliaca
Femoral
Adductor Canal
Popliteal
Selective tibial nerve block
IPACK block
PHYSICIAN STAFF
Surgery Center Contact Information
Phone: (210) 253-2594
Fax: (210) 253-2664
OFFICE LOCATIONS
Quarry Area
The Orthopaedic Institute
400 Concord Plaza Dr.
San Antonio, TX 78216
View Location
SUPPORT STAFF
Surgery Center Contact Information
Phone: (210) 253-2594
Fax: (210) 253-2664