Emmanuel C. Nwelue, M.D.
Joint Replacement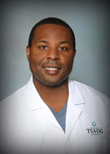 Specialties
PRACTICE SUMMARY
Dr. Emmanuel C. Nwelue is an orthopedic surgeon, fellowship-trained in Total Joint Replacement, with TSAOG Orthopaedics. He treats orthopedic conditions with a focus on upper minimally invasive hip and knee replacement surgery and complex joint reconstructions for patients 18 years of age and older.
He has appointments available at our New Braunfels, Schertz, Medical Center, and Brooks City Base locations.
MEET DR. NWELUE
Dr. Nwelue is an orthopaedic surgeon, fellowship-trained in total joint replacement of the hip and knee.
He grew up in Lewisville, TX, and went to Lewisville High School. After earning his bachelor's degree at Austin College, Dr. Nwelue received his medical degree from The University of Texas Science Center in San Antonio.
Following medical school, he completed his Orthopaedic surgery residency at UT Southwestern, working at Parkland Memorial Hospital, the city's largest level 1 trauma center. While in residency, he spent four months at Auckland City Hospital in Auckland, New Zealand. During his time there, he enriched his total joint replacement education by learning cementing techniques with hip replacements. He also served as the Editor of the third edition of the UT Southwestern Orthopaedic Surgery Department Journal. His commitment to education earned him the Vert Mooney Award for Academic Achievement.
Following his residency, Dr. Nwelue moved to Irvine, CA, for a total joint replacement fellowship. During this time there, he trained under some of the nation's top surgeons and educators of primary and revision total joint replacements, including direct anterior approach for hip replacements.
After completing his fellowship, Dr. Nwelue was eager to return to San Antonio. He is looking forward to providing exceptional care to the community, where he first started his medical journey.
Featured Video:

SPECIAL INTERESTS
Total Knee Replacement
Total Hip Replacement
Partial Knee Replacement
Revision Knee Replacement
Hip Arthritis
Knee Arthritis
Adult Hip Dysplasia
Hip Infections
Knee Infections
Hip Fracture Care
PHYSICIAN STAFF
Clinical Coordinator
Sarina O. 210.804.6890
Scheduling
Phone: 210.281.9595
Fax: 210.582.2670
Referrals and Authorizations
Phone: 210.804.5600
Fax: 210.804.5601
Billing Specialist
Phone: 210.396.5369
Fax: 210.804.6801
OFFICE LOCATIONS
SUPPORT STAFF
Clinical Coordinator
Sarina O. 210.804.6890
Scheduling
Phone: 210.281.9595
Fax: 210.582.2670
Referrals and Authorizations
Phone: 210.804.5600
Fax: 210.804.5601
Billing Specialist
Phone: 210.396.5369
Fax: 210.804.6801