Jonathan S. Duncan, M.D.
Spinal Surgery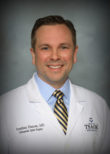 Specialties
PRACTICE SUMMARY
Dr. Duncan is a board certified orthopaedic spine surgeon with TSAOG Orthopaedics. He is certified by The American Board of Orthopaedic Surgery (ABOS), fellowship trained in back and neck surgery, and treats patients of all ages.
Doctor Duncan has a special interest in spinal decompression and fusions, degenerative scoliosis, and spinal trauma. He has appointments available at our Ridgewood, Schertz, Medical Center, and Westover Hills locations.
 – Dr. Duncan is fluent in Spanish. – 
MEET DR. DUNCAN
Dr. Jonathan Duncan is a board certified Orthopaedic Spine Surgeon specializing in the comprehensive treatment of the neck, back, and spine.
His childhood was spent in numerous locations including Germany as his Father served in the U.S. Army. He eventually settled in Austin, Texas where he graduated from Anderson High School. He earned his Bachelor's degree from the University of Texas at Austin with a double major in Biology and Latin American Studies with Special Honors. During his undergraduate training he had the unique opportunity to complete the competitive Health Care in Mexico Study Abroad program as a Benjamin A. Gilman International Scholar. This included classes at the Medical School Centro Universitario de Ciencias de la Salud (CUCS) as well as clinical rotations at the Hospital Civil in Guadalajara, Mexico.
This experience inspired Dr. Duncan to further his medical education which he accomplished by earning his M.D. at the University of Texas Southwestern Medical School in Dallas, Texas followed by Orthopaedic Surgery Residency at The Henry Ford Hospital in Detroit, Michigan. During residency he also worked closely with international leaders in the field of spine surgery at the William Beaumont Hospital (Royal Oak, Michigan) as well as pioneering spine surgeons from the Twin Cities Spine Center at Gillette Children's Hospital (St. Paul, Minnesota).
Following residency Dr. Duncan was selected for the Orthopaedic Spine Surgery Fellowship at the world renowned Mayo Clinic (Rochester, Minnesota). In addition to being one of the few ACGME-accredited Spine Fellowships, the comprehensive training included working directly with the Complex Spine Neurosurgeons and Musculoskeletal Oncology Spine Surgeons and is one of the exclusive fellowships sponsored by AO Spine.
Although Dr. Duncan remains interested in academic pursuits of research and teaching, his primary focus is patient care. He understands the complexity of treating patients with problems related to their neck, back, and spine and is a strong believer in an interdisciplinary approach and utilizing non-surgical treatments as much as possible. Dr. Duncan works together as a team with his patients to achieve their most important goals whether that is restoring the ability to enjoy their favorite activities, improving their quality of life or lifestyle, or returning to work. If surgery is needed, he strives to minimize pain and speed recovery to enhance the healing process.
In addition to enjoying all things outdoors or sports related, he especially enjoys spending time with family, including his wife, a Texas native, and their three children.
Dr. Duncan was named in SA Scene's list of SA Doctors: Best of 2017 and 2017 Rising Star Doctors.
Featured Video:

SPECIAL INTERESTS
Cervical & Lumbar Decompression and Fusions
Minimally Invasive and Microsurgical Techniques
Cervical Spine Surgery including Arthroplasty
Revisions and Infections
Spinal Metastasis
Spine Fractures and Trauma
Degenerative Scoliosis
PHYSICIAN STAFF
Clinical Coordinator
Denise B: 210.593.1475
Scheduling
Phone: 210.281.9595
Fax: 210.582.2670
Referrals and Authorizations
Phone: 210.804.5600
Fax: 210.804.5601
Billing Specialist
Phone: 210.396.5369
Fax: 210.804.6801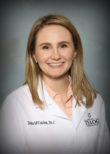 Deidra McCutchen, MPAS, PA-C
Physician Assistant to Dr. Jonathan Duncan
T: (210) 593-1475
F: (210) 593-1478
PATIENT TESTIMONIALS
Dr. Duncan is very knowledgeable and very caring. I was able to set up an appointment before my or original follow-up due to excessive pain. He heard me out and went above and beyond to help me understand what is wrong. He also took the next step to set up an MRI without me asking.

- TSAOG Patient Survey
Dr. Duncan is great! I didn't feel rushed; I am impressed he saw a condition in me above and beyond my reason for being there; I am confident in his care.

- TSAOG Patient Survey
Dr. Duncan was very compassionate and attentive, made my daughter feel at ease.

- TSAOG Patient Survey
OFFICE LOCATIONS
SUPPORT STAFF
Clinical Coordinator
Denise B: 210.593.1475
Scheduling
Phone: 210.281.9595
Fax: 210.582.2670
Referrals and Authorizations
Phone: 210.804.5600
Fax: 210.804.5601
Billing Specialist
Phone: 210.396.5369
Fax: 210.804.6801