Matthew C. Swann, M.D.
Orthopaedic Back and Neck Surgery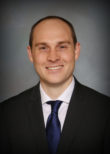 Specialties
PRACTICE SUMMARY
Dr. Swann is a board certified orthopedic surgeon, fellowship trained in spine surgery, with TSAOG Orthopaedics (formerly The San Antonio Orthopaedic Group). He provides both surgical and non-surgical treatment for patients aged 18 and up with bone, joint, and nerve conditions of the neck and back.
Doctor Swann specializes in a wide variety of spine surgical techniques, ranging from microscopic and minimally invasive surgery to adult scoliosis correction and spinal fusion. He has appointments available at our Quarry Area, Ridgewood, New Braunfels, and Medical Center locations.
MEET DR. SWANN
Dr. Swann is an orthopaedic surgeon who specializes in the treatment of spine conditions. He completed a fellowship in orthopaedic spine surgery at the Harvard Medical School Beth Israel-Deaconess Medical Center in Boston, MA. During his time there he trained under the nation's top surgeons and educators to become proficient in the diagnosis and treatment of spine conditions.
Dr. Swann was born in San Antonio, Texas and spent his early years in the hill country north of the city. He attended St. Mary's Hall High School where he developed an interest in history and science. He completed his undergraduate studies at Georgetown University in Washington, D.C. where he earned a degree in Classical History and admittance into medical school. He returned home to start his career in medicine at the University of Texas Health Science Center at San Antonio. In medical school he developed an interest in orthopaedic surgery and, upon graduating first in his class, was accepted to his top choice for orthopaedic residency: The University of Texas Southwestern Medical Center in Dallas, TX. He honed his surgical skills at Parkland Memorial Hospital – the city's largest level 1 trauma center. He gained further expertise in spine surgery at the venerable Texas Scottish Rite Hospital for Children, as well as under several top spine surgeons in the Dallas community. While in residency, he published multiple academic manuscripts, was elected to the position of chief resident, and served as Editor of the first edition of the UT Southwestern Orthopaedic Surgery Department Journal. His commitment to education and research earned him the G. Truett James Award for Excellence in Teaching, as well as the Vert Mooney Award for Academic Achievement.
Following residency, Dr. Swann was accepted into the Harvard Medical School Orthopaedic Spine Surgery Fellowship at Beth Israel-Deaconess Medical Center in Boston, MA. During his time in Boston he trained alongside both neurosurgeons and orthopaedic spine surgeons. There he became proficient in the surgical and non-surgical management of a wide spectrum of adult spine-related conditions.
After completing his fellowship, Dr. Swann was eager to return home to San Antonio. He is proud to put his knowledge and skill sets into action to serve the community in which he grew up.
While performing spine surgery is his trade, patient satisfaction and outcomes are his priority. His approach focuses on informed patient decision-making, as well as pursuing non-surgical treatment when possible.
As part of a patient-centered practice, he feels that an office visit is more than a physical exam and recommendation about your spine condition – it is a global assessment of one's health and quality of life. It is important to him that patients leave his office with an elevated understanding of their condition, confidence in their choice of treatment, and comfort knowing they are on the path to improvement.
SPECIAL INTERESTS
Minimally invasive spine decompression and fusion
Microscope-assisted surgery
Cervical spine surgery
Adult scoliosis correction
CONDITIONS
Lumbar Spinal Stenosis and Neurogenic Claudication or Sciatica
Cervical Stenosis and Cervical Myelopathy
Cervical and Lumbar Radiculopathy
Spondylolisthesis
Lumbar Herniated Disc
Cervical/Thoracic Herniated Disc
Degenerative Adult Scoliosis
Revision Spine Surgery
Spine Tumors
Metastatic Spine Disease
Spine Infections
Spine Fractures and Dislocations
Osteoporotic Compression Fractures
TREATMENTS
Anterior and Posterior Lumbar Decompression with or without Fusion
Anterior and Posterior Cervical Decompression and Fusion
Thoracic Decompression and Fusion
Lumbar Discectomy
Adult Scoliosis Correction
Spinopelvic Fixation
Kyphoplasty
PHYSICIAN STAFF
Clinical Coordinator
Melissa T: 210.396.5320
Scheduling
Phone: 210.281.9595
Fax: 210.582.2670
Referrals and Authorizations
Phone: 210.804.5600
Fax: 210.804.5601
Billing Specialist
Phone: 210.396.5369
Fax: 210.804.6801
OFFICE LOCATIONS
Ridgewood
Ridgewood Orthopaedic Center
19138 US-281 N
San Antonio, TX 78258
View Location
Quarry Area
The Orthopaedic Institute
400 Concord Plaza Dr.
San Antonio, TX 78216
View Location
New Braunfels
Resolute Retail Plaza
601 Creekside Crossing #106
New Braunfels, TX 78130
View Location
SUPPORT STAFF
Clinical Coordinator
Melissa T: 210.396.5320
Scheduling
Phone: 210.281.9595
Fax: 210.582.2670
Referrals and Authorizations
Phone: 210.804.5600
Fax: 210.804.5601
Billing Specialist
Phone: 210.396.5369
Fax: 210.804.6801