TSAOG is very pleased to welcome Dr. Justin Robbins to our practice! He starts July 1st, 2019 and has immediate appointments available.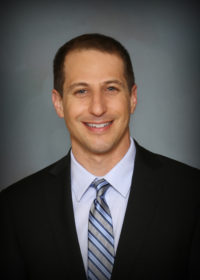 Dr. Robbins is a board certified orthopaedic surgeon, fellowship trained in conditions of the foot, ankle, and lower leg, and subspecialty certified in orthopaedic sports medicine. He treats patients aged 6 years and older and has new patient appointments available at our Stone Oak, Schertz, and New Braunfels locations.
His special interests include:
Achilles tendon injuries
Total ankle replacement
Foot and ankle fractures
Bunion surgery
Cartilage injuries to the ankle
Chronic ankle instability
Sports injuries to the foot and ankle
About Dr. Justin Robbins:
Dr. Robbins received his medical degree in 2003 from the Tulane University School of Medicine in New Orleans, Louisiana. He completed his Orthopaedic Internship and Residency training in San Antonio at Brooke Army Medical Center. He started practicing General Orthopaedics in 2008. During his first 5 years of practice, he obtained his Subspecialty Certificate of Additional Qualification in Orthopaedic Sports Medicine. He then went on to complete a fellowship in Foot and Ankle Surgery at Duke University in Durham, North Carolina. Dr. Robbins attained the rank of Lieutenant Colonel with 16 years of Active Duty service in the U.S. Army. He was deployed twice as an Orthopaedic Surgeon to Iraq in 2009 and again in 2015.
Dr. Robbins maintains strong academic interests. He has published numerous articles during his time in training and as teaching faculty in the U.S. Army. He has served as teaching faculty at Brooke Army Medical Center, Wilford Hall, Madigan Army Medical Center and as an Assistant Professor of Surgery for the Uniformed Services University of Health Sciences.
In his spare time, Dr. Robbins enjoys spending time with his wife and children, exercising, swimming and watching football.
To schedule an appointment with Dr. Robbins, please call 210.281.9595 or request an appointment online.
To learn more about Dr. Robbins' background and training, please visit his webpage.