Kevin L. Kirk, D.O., F.A.O.A.
Foot, Ankle, Lower Leg, and Knee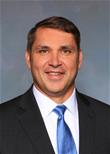 Specialties
PRACTICE SUMMARY
Dr. Kirk is an orthopedic surgeon with TSAOG Orthopaedics (formerly The San Antonio Orthopaedic Group). He is board certified by The American Board of Orthopaedic Surgery (ABOS), fellowship trained in conditions of the foot, ankle and lower leg, and sees patients aged 6 and up.
Doctor Kirk has a special interest in total ankle replacement, complex foot and ankle fractures, ankle arthroscopy, reconstruction and trauma surgery. He has appointments available at our Brooks City Base, Medical Center, and Westover Hills locations.
MEET DR. KIRK
Dr. Kirk is a board certified orthopedic surgeon specializing in disorders of the foot, ankle and lower leg. Although he treats all general orthopedic conditions, he has a special interest in foot and ankle joint replacement, arthroscopy, reconstruction and trauma surgery.
Dr. Kirk received his Doctor of Osteopathic Medicine from the Philadelphia College of Osteopathic Medicine in 1999. He completed an internship in General Surgery and subsequent Orthopedic Surgery Residency at Walter Reed Army Medical Center in Washington, DC. He then went on to complete a fellowship in Foot and Ankle Surgery at Johns Hopkins University/Union Memorial Hospital in Baltimore, MD.
After completing fellowship, he was appointed the Chief, Foot and Ankle Surgery at Brooke Army Medical Center. In 2010, he became the Chief, Orthopedic Surgery Service at San Antonio Military Medical Center serving in that position until his retirement from the Army in 2013. He has recently relocated his practice from the University Orthopedic Associates in New Jersey where he was an orthopedic consultant to the athletic programs at Rutgers/Princeton and Rider Universities.
Dr. Kirk is a highly experienced orthopedic surgeon and a veteran of two deployments with forward surgical teams to Afghanistan in 2005 and 2011. He remains active in the orthopedic academic community. He has served on the faculty of the Uniformed Service University of Health Sciences, Baylor College of Medicine and Rutgers/ Robert Wood Johnson Medical School. He has contributed to more than 35 peer-reviewed publications, 5 book chapters, and has been an invited presenter with over 50 papers and exhibits at both national and  international orthopedic meetings.
His special awards and accomplishments include Legion of Merit Medal, Outstanding Educator, San Antonio Military Medical Center- Orthopedic Surgery Residency and 2013 American Orthopedic Foot and Ankle Society Travelling Fellow. In addition, he has appeared on ABC News 20/20 and has been featured on the cover of San Antonio's M.D. News in a story which detailed caring for wounded warriors.
He is married and has two children. He enjoys running, travel and spending time with his family.
Dr. Kirk was named to SA Scene's list of SA Doctors: Best of 2017.
Featured Video:
SPECIAL INTERESTS
Cartilage repair for talus osteochondral lesions
Ligamentous repair for ankle instability
Ankle and knee arthroscopy
Achilles, posterior tibial and peroneal tendon disorders
Complex limb deformity correction of the foot, ankle and lower leg
Diabetic foot care to include Charcot Arthropathy
Sports related injuries and fracture care
PHYSICIAN STAFF
Clinical Coordinator
Jessica L: 210.804.5690
Scheduling
Phone: 210.281.9595
Fax: 210.582.2670
Referrals and Authorizations
Phone: 210.804.5600
Fax: 210.804.5601
Billing Specialist
Phone: 210.396.5369
Fax: 210.804.6801
Crystal Esquibel, P.A.
Physician Assistant to Dr. Kevin Kirk
T: (210) 804-5690
F: (210) 804-5693
PATIENT TESTIMONIALS
Dr.K. Kirk is definitely the asset to this practice. I was coming to him for a 2nd opinion, I can definitely say that was one of the best decisions, I've ever made!

- TSAOG Patient Survey
Dr. Kirk was a great listener and he made my daughter feel very comfortable, while in the office. He spoke to her like in terms that she and I could understand which helped us understand what was wrong. He is awesome!

- TSAOG Patient Survey
Dr. Kirk is amazing and we are so pleased that we found him. He made my son feel comfortable and we know we are in good hands.

- TSAOG Patient Survey
I have never been to a doctor who is as thorough as Dr. Kirk. He explains everything in a way that a layperson can understand and I would highly recommend him to anyone. His bedside manner is impeccable!

- Guadalupe Sandoval, Vitals
OFFICE LOCATIONS
Brooks City Base
Mission Trail Medical Plaza
3327 Research Plaza, #404
San Antonio, TX 78235
View Location
Medical Center
Christus Santa Rosa NW, Tower I
2829 Babcock Rd., #700
San Antonio, TX 78229
View Location
Westover Hills
Westover Hills Medical Plaza I
11212 State Hwy 151, #150
San Antonio, TX 78251
View Location
SUPPORT STAFF
Clinical Coordinator
Jessica L: 210.804.5690
Scheduling
Phone: 210.281.9595
Fax: 210.582.2670
Referrals and Authorizations
Phone: 210.804.5600
Fax: 210.804.5601
Billing Specialist
Phone: 210.396.5369
Fax: 210.804.6801