Richard L. Ursone, M.D.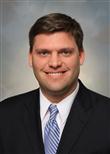 General; Joint Replacement
Specialties
Dr. Ursone is a graduate of Lafayette College, in Easton, PA where he received a BS in Biology. He also has a MS in Biology from UT Arlington. He received his medical degree from The University of Texas Health Science Center at Houston.
Dr. Ursone completed his internship and residency at Brooke Army Medical Center in San Antonio, Texas where he invested 9 years providing orthopaedic care to our injured soldiers. Dr. Ursone is board certified by the American Board of Orthopaedic Surgery.

Dr. Ursone has a special interest in partial knee replacement, arthritis of the knee and hip, and arthroscopic reconstruction of the shoulder and knee.

Dr. Ursone was named to SA Scene's list of SA Doctors: Best of 2015.

View Dr. Ursone's Patient Information Sheet




Featured Video:

The San Antonio Orthopaedic Group
May 2009 – Present
Dept of Orthopaedics and Rehabilitation, BAMC
June 10, 2000 to June 30, 2009
Residency
Brooke Army Medical Center
San Antonio, Texas
Orthopaedic Surgery, 2001 – 2005
Internship
Brooke Army Medical Center
San Antonio, Texas
Orthopaedic Surgery, 2000 – 2001
Medical School
The University of Texas Health Science Center – Houston
Houston, Texas, 1996 – 2000
College
Lafayette College
Easton, PA, 1990 – 1994
Professional Organizations & Committee Service
American Academy of Orthopaedic Surgeons
Society of Military Orthopaedic Surgeons
Honors & Activities
Named on SA Scene's list of Best San Antonio Doctors for 3 consecutive years, 2011-2013
Awarded the Meritorious Service Medal, Army Commendation Medal, NATO medal, Global War on Terrorism Medal, and Afghanistan Campaign Medal during Military service
Teaching Experience
Teaching Faculty Brooke Army Medical Center 2005-2009
Assistant Professor of Surgery Uniformed Services University of the Health Sciences 2006-2009
Publications
Ursone, R., Ward, J., Kragh, J., Hayda, R., and Bagg, M. Pelvic Fracture Classification: Analysis of Observer Agreement. In review Journal of Orthopaedic Trauma.
Putigna, F., Strohmeyer, K., and Ursone, R. Monteggia Fractures. Emedicine article published 24MAY2007.
Treats General Orthopaedic conditions for Adults and Pediatrics with an interest in:
Shoulder dislocation
Rotator cuff tears / Arthroscopic rotator cuff repair
Computer assisted joint replacement
Meniscus tears / Meniscal repair
Arthritis of the hip and knee
ACL tears / ACL reconstruction
Trauma and fracture care
View some of our latest pictures
View more of our pictures on Flickr
Administrative Staff
Clinical Coordinator
Kimberly A: 210.396.5246

Scheduling
Phone: 210.281.9595
Fax: 210.582.2670

Referrals and Authorizations
Phone: 210.804.5600
Fax: 210.804.5601

Billing Specialist
Phone: 210.804.6800
Fax: 210.804.6801
OFFICE LOCATIONS
Central
The Orthopaedic Institute
400 Concord Plaza Dr., #300
San Antonio, TX 78216
View Location
North Central
Stoneterra Medical Building
150 E. Sonterra Blvd, #300
San Antonio, TX 78258
View Location
Northeast
Schertz Parkway Professional Plaza
5000 Schertz Parkway, #600
San Antonio, TX 78154
View Location
REQUEST AN APPOINTMENT
Appointment Scheduling:
Appointments are scheduled M-F during normal business hours. If you submit an appointment request after 5pm, you will be contacted the next business day.
Same Day / Urgent Appointments:
If you are trying to schedule a same day appointment, please contact our scheduling department at (210) 281-9595. You can also utilize our OrthoNow Injury Clinic.
Learn more »
.
Rescheduling Appointments:
If you need to reschedule your appointment, please log in to the patient portal and request a reschedule at least 24 hours in advance. If you would prefer to reschedule by phone, you may contact our scheduling department at (210) 281-9595 or contact your physician's office directly.