B. Christian Balldin, M.D.
Sports Medicine
PRACTICE SUMMARY
Dr. Balldin is a board certified orthopedic surgeon with TSAOG Orthopaedics. He is fellowship trained in sports medicine, certified by The American Board of Orthopaedic Surgery (ABOS), and treats patients aged 6 years and up for any sports-related injury as well as conditions of the shoulder, hip, and knee.
As a sports medicine physician, Doctor Balldin has a special interest in sports injuries and arthroscopic repair and reconstruction of the shoulder, hip, and knee. He has appointments available at our
Schertz
,
Ridgewood
, and
Quarry Area
locations.
MEET DR. BALLDIN
Dr. Balldin is an orthopaedic surgeon well versed in treating musculoskeletal ailments.  He has fellowship training in sports medicine by some of the pioneers of shoulder, hip and knee arthroscopy and reconstruction.  In addition to his sports medicine specialty training and care for all sports injuries he also treats fractures and performs total joint replacements.
Dr. Balldin was born in Stockholm, Sweden and moved to San Antonio, Texas where he attended and graduated from Winston Churchill High School.  He was very involved in soccer during his entire youth and was the team captain of both his high school and club teams.  He received a soccer scholarship to attend Furman University – a Division 1 NCAA school in South Carolina.  For personal reasons he returned to Texas and continued his NCAA collegiate athletic career at St. Edward's University in Austin, Texas and became a Brother Daniel Lynch Scholar.  Here he graduated summa cum laude a semester early with a bachelor's degree.  He also obtained a second bachelor's degree at the University of Texas at San Antonio with magna cum laude honors.  In addition to already being a proud Texan, he became a United States citizen as well.   
Dr. Balldin continued his education at the University of Texas – Houston Medical School where he was a Merck Scholar.  His orthopaedic residency education was completed at the University of Texas Southwestern Medical Center in Dallas, Texas where he was actively involved in covering local high school football teams throughout his training.  Following residency he was selected for the very prestigious Steadman Clinic in Vail, Colorado for his orthopaedic sports medicine fellowship.  During his time in Colorado he continued to be a team physician covering a local high school and all its sports teams.  He also had the opportunity to be a physician covering the US Ski Team during the 2011-2012 season and help take care of athletes from MLB, NBA, NFL, NHL, PGA and many professional soccer leagues from around the United States and the world.
Dr. Balldin has published scientific investigations and continues to be involved in research.  He enjoys teaching and wishes to continue developing his clinical practice in addition to furthering orthopaedic knowledge.  He wants to provide optimum care for his patients.
In his spare time, he enjoys spending time with his wife and chasing after their three young children.  He is also a sports enthusiast that likes the great outdoors, triathlons and working out.
Dr. Balldin was named in SA Scene's list of SA Doctors: Best of 2017 as well as Texas Super Doctors® Rising StarsSM 2016, a peer nominated list featured in Texas Monthly.
View Dr. Balldin's CV 
View Dr. Balldin's Patient Information Sheet
Featured Video:

SPECIAL INTERESTS
Sports Medicine
Knee instability
Shoulder instability
Labral tears of the hip / Labral repair
ACL tears / ACL reconstruction
Meniscal tears / Meniscal repair
Arthroscopic management of femoroacetabular impingement and labral tears of the hip, trochanteric bursitis and snapping iliotibial (IT) band syndrome
Proximal hamstring tears
Rotator cuff repair
Knee arthroscopy as well as complex knee ligament reconstructions and osteotomies
Cartilage defects / Cartilage restoration procedures of shoulder, hip and knee
 Total Joint Replacement
 Trauma and Fracture Care
Upper and lower extremity injuries
Fractures and dislocations involving the clavicle, upper and lower arm, wrist, hip, upper and lower leg, patella, and ankle
Knee injuries
AC joint dislocations
Acute traumatic injuries of biceps, triceps, quadriceps, patellar and Achilles tendons
SHOULDER:
AC Joint Injuries aka Separated Shoulder
Biceps Tendon Injuries
Clavicle Fractures
Frozen Shoulder
Proximal Humerus Fractures
Rotator Cuff Injuries
Scapulothoracic Bursitis aka Snapping Scapula
Shoulder Arthritis
Shoulder Instability
SLAP Tears
Sternoclavicular Joint Injuries
Subacromial Impingement
KNEE:
Arthritis of the Knee
Cartilage Injuries
FCL Injuries
Meniscus Injuries
Multi-Ligament Injuries
Malalignment
MCL Injuries
Patellar Tendon Tears
Patella Fractures
PCL Injuries
Proximal Tibio-Fibular Joint Instability
Quadricep Tendon Tears
Tibial Plateau Fractures
HIP:
Arthritis of the Hip
Cartilage Defects of the Hip
Fractures of the Hip
Gluteus Medius Tears
Iliopsoas Impingement
Labral Tears
Loose Bodies
PVNS
Trochanteric Bursitis
ANKLE:
Achilles Tendon Tears
Ankle Fractures
Ankle Impingement
ELBOW:
Elbow Fractures
Golfer's Elbow aka Medial Epicondylitis
Tennis Elbow aka Lateral Epicondylitis
PHYSICIAN STAFF
Clinical Coordinator
Amanda C: 210.593.1420
Scheduling
Phone: 210.281.9595
Fax: 210.582.2670
Referrals and Authorizations
Phone: 210.804.5600
Fax: 210.804.5601
Billing Specialist
Phone: 210.396.5369
Fax: 210.804.6801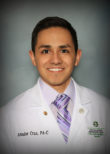 Amador Cruz, P.A.
Physician Assistant to Dr. Christian Balldin
T: (210) 593-1420
F: (210) 593-1423
PATIENT TESTIMONIALS
I broke my collarbone in several places as a result of a cycling accident. Because of the severity of the break surgery was my best option for a full recovery. Dr. Balldin informed me of the potential side effects of the surgery and I elected to move forward with it. The surgery went well. No side effects and I have decided to keep the plate in for good. It's been 4.5 months since the surgery and I've been in the gym 4 days a week for the last month and am as strong as ever. Great doc

- Healthgrades
I would strongly recommend Dr. Balldin to my friends and family. I had torn 3 ligaments in my knee. He did a great job on my right knee Arthroscopy. I had my surgery by feb '16 and I have started running already. He is patient to hear me out and very thorough in determining the entire problem. He is easily reachable by phone and email for my questions then and there apart from my visit. He follows up my progress in Physio sessions and also discusses my Physio routine with the PT.

- Healthgrades
[Dr. Balldin] Treats each patient as if they are personal family members. He never rushes you and always is conservative before jumping to surgery. He was very easy to talk to and you can tell he is very knowledgeable on his research and newer methods..

- Vitals
Dr. Balldin has awesome bed side manners. He made my kids feel so comfortable and explained everything to them about their condition and everything to expect during the healing process. I will completely recommend him and the clinic to all the parents on my kids' team.

- TSAOG Patient Survey
OFFICE LOCATIONS
Ridgewood
Ridgewood Orthopaedic Center
19138 US-281 N
San Antonio, TX 78258
View Location
Quarry Area
The Orthopaedic Institute
400 Concord Plaza Dr.
San Antonio, TX 78216
View Location
Schertz
Schertz Parkway Professional Plaza
5000 Schertz Parkway, #600
Schertz, TX 78154
View Location
SUPPORT STAFF
Clinical Coordinator
Amanda C: 210.593.1420
Scheduling
Phone: 210.281.9595
Fax: 210.582.2670
Referrals and Authorizations
Phone: 210.804.5600
Fax: 210.804.5601
Billing Specialist
Phone: 210.396.5369
Fax: 210.804.6801