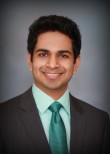 Unfortunately, TSAOG Orthopaedics must bid a fond farewell to pain management specialist Dr. Naumit Bhandari. Dr. Bhandari will be leaving TSAOG effective February 20th, 2019.
His new contact information will be as follows:
Naumit S. Bhandari, M.D., P.A.
2900 Mossrock, Suite 390
San Antonio, TX 78230
Phone: (210) 849-5378
Current patients of Dr. Bhandari will have the option of transferring their care to another TSAOG physician or any other physician of their choice. If you are a current patient with Dr. Bhandari and have any questions about your medical records or continued care, please call our main office at (210) 804-5400.
Dr. Bhandari will be missed and we wish him the best of luck in his future endeavors.